Processes and Management Systems
---
Keeping them simple, efficient and useful.
---
We REALLY know and understand the importance of processes and management systems.
Consistency in the development and implementation of processes creates competence in people, confidence from your customers, and certainty that your goods and services can be trusted. Management systems put all of the pieces together, going beyond just ticking boxes to create efficiency and fulfilment of expectations.
I have helped all types and sizes of organization improve by helping them to:
Assess and streamline their processes
Develop management systems for new and existing operations
Create the best systems solution tailored for efficiency and effectiveness
Focus their attention on broader business principles
Meet certification requirements for their systems, and help their business become certified
Stephen assisted our operational expansion and growth strategies and helped us achieve certification to ISO Standards.

Global Road Maintenance Systems
Stephen was dedicated to achieving results working with our business to not only develop a solution that met compliance requirements, but worked for the business.

MPA Surveying
Stephen assisted in transitioning our Business Management System across our national operations, coaching our staff and senior management in viewing our business with new perspective.

Keolis Downer
We used Stephen for our ISO certification needs. He took the time to know our business and its processes to find efficiencies wherever possible. His breadth of industry experience is a real asset.

Ecosure
We have prepared several videos and other resources to assist our clients in overcoming some of the confusing requirements of certification standards (ISO9001, ISO14001, ISO45001, ISO55001). Visit our Resources page to find free content to assist you.
Management System Documents
We have developed a large range of templates to help our clients with their Management System documents. These have helped to fill their gaps and provide better content with existing documents. They have also been used to build Management Systems from the ground up, as the templates meet most of the certification standards' requirements (ISO9001, ISO14001, ISO45001, ISO55001) to provide an integrated solution.
Ready to start the relationship?
Download our exclusive eBooks now for FREE
5 Free PDFs with over 30 useful tips
5 mistakes managers make before their second coffee
6 misconceptions about company culture
7 common management system pitfalls
8 Business Planning Shortfalls
10 everyday documentation slip-ups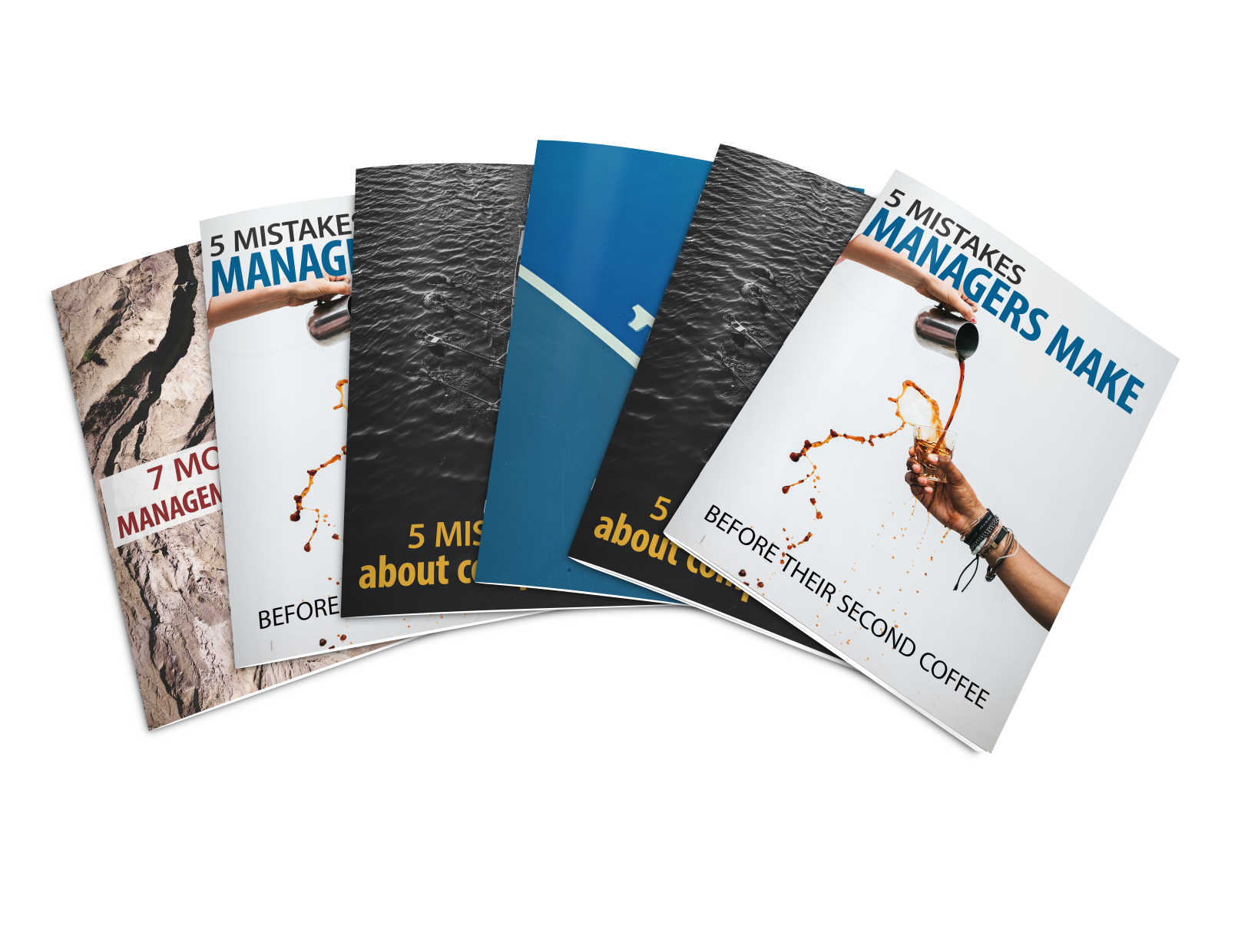 Integrated Management System
If you want your management system to be most effective, then an Integrated Management System is a common and reasonable solution. Rather than having different and multiple documents saying the same thing for different functions, we can help you amalgamate and simplify your system to create a straightforward and easier-to-use document suite that addresses your processes and will still meet certification standards if required.
However, if your needs are more limited, we will still work with your organisation to develop or refine the specific individual or a combination of management systems listed below:
Quality Management System
If you need to meet the requirements of ISO9001:2015, then we can help you.  The adoption of a quality management system is a strategic decision for an organization that can help to improve its overall performance and provide a sound basis for sustainable development initiatives. The potential benefits to an organization of implementing a quality management system are:
The ability to consistently provide products and services that meet customer and applicable obligations;
Facilitating opportunities to enhance customer satisfaction;
Addressing risks and opportunities associated with the organisation's undertaking;
The ability to demonstrate conformity to specified quality management system requirements.
Environmental Management System
If you need to meet the requirements of ISO14001:2015, then we can help you. Achieving a balance between the environment, society and the economy is considered essential to meet the needs of the present without compromising the ability of future generations to meet their needs. Sustainable development as a goal is achieved by balancing the three pillars of sustainability.
Societies expectations for sustainable development, transparency and accountability continue to evolve with increasingly stringent legislation, growing pressures on the environment from pollution, inefficient use of resources, improper waste management, climate change, degradation of ecosystems and loss of biodiversity.
The adoption of an environmental management system is a responsible decision for most organisations to ensure legislative requirements are met and sustainability for the long-term is achieved.
If you need to meet the requirements of either ISO45001:2018, or AS/NZS4801:2001, or OHSAS18001:2007, then we can help you. Organizations are responsible for the occupational health and safety of workers and others who can be affected by its activities. This responsibility includes promoting and protecting their physical and mental health. The adoption of an OH&S management system is intended to enable an organization to provide safe and healthy workplaces, prevent work-related injury and ill health, and continually improve its OH&S performance.
If you need to meet the requirements of ISO55001:2014, then we can help you.  An Asset Management System is used by the organization to direct, coordinate, and control asset management activities. It can provide improved risk control and gives assurance that the requirements of asset management will be achieved on a consistent basis.  An Asset Management System is applicable to those
Considering how to improve the realization of value for their organization from their asset base
Involved in the establishment, implementation, maintenance, and improvement of an asset management system
Involved in the planning, design, implementation, and review of asset management activities; along with service providers.